Tracking the nasty developing story about the short attack of Hindenburg et al against YRIV on 2018-12-06. The most remarkable development in this case is that YRIV filed a defamation lawsuit in NY against the short seller on 2019-01-23, taking the full risk & responsibility to disclose all related information within the discovery phase. Usually short seller hope their target will never sue them to avoid disclosing any information in the process. Not so here, YRIV shows strong confidence.
Please read the Disclaimer / Disclosure first. You can find more about YRIV here.
I will update this blog entry to reflect new information, thoughts & aspects.
2019-03-06 Initiated DD, added more details (SH lawsuit, CMCM comparison, ..)

2019-03-07 Adding 'Cause of Action' items of the two complaints; Adding Class-Action-Suit; Adding 'Short Play' chapter w/ SI
2019-03-08 More color on debt & value from refutation & 10-K, also read comments!
2019-03-09 Added chapter 'The 2015 Wuhan Newport Asset Swap Deal", clarifying some questions.
2019-03-11 Added Conclusion, minor edits and coverage on SA
2019-03-12 Added detailed Weekly & Daily chart w/ Fibonacci
2019-03-17 Added impact of Reduced Ownership by 27M shares from Majestic Symbol, Crestlake, Fortunate Drift and Coleman (=Best Future Investment)

Timeline: Added Ownership Change
Updated 'Short Play', increased SI
Added sub-chapter: 'The 2nd Stage Selling' after 'Initial Thoughts'

Updated Chapter 'The 2015 Wuhan Newport Asset Swap Deal'
Updated Chapter 'Conclusion'

2019-06-04 Make sure to read the comment section! NASDAQ made their delisting decision.
Brief Overview & Initial Thoughts
The Short Play
Looking at the NASDAQ's YRIV Short Interest (SI) Data, it is obvious that short sellers well prepared their attack while loading their position upfront before the release.
Usually they kick-off high volume selling in the opening with the release, to create the desired effect of the short confirmation bias. The usual play, then things take their turn by themselves with all the ambulance chaser spamming the news channel and panic.
| Settlement Date | Short Interest | Avg Daily Share Volume | Days To Cover |
| --- | --- | --- | --- |
| 2/28/2019 | 874,879 | 4,869,006 | 1.000000 |
| 2/15/2019 | 597,960 | 1,610,637 | 1.000000 |
| 1/31/2019 | 508,827 | 218,421 | 2.329570 |
| 1/15/2019 | 583,094 | 113,925 | 5.118227 |
| 12/31/2018 | 636,223 | 511,980 | 1.242672 |
| 12/14/2018 | 873,529 | 1,926,162 | 1.000000 |
| 11/30/2018 | 659,465 | 308,384 | 2.138454 |
Interesting to note these days is that there seem to be no shares to borrow available to short from the usual source, see
So it might be unclear how they continue to suppress the stock price here, they could have covered and loaded, then playing the stock for a little while.
The risky part in their game is that no options are available to hedge their short position with call options.
But I am sure that today on 3/7, the SI will be below 500k shares again. After all a relative small play considering all the efforts and the fact that they are being sued twice now.
Initial Thoughts & Opinion
Usually Hindenburg & Co's short attack last for only a short while, pun intended. They feel safe, since usually the stock recovers and the targeted company prefers to focus on their core business and would not like to risk full information disclosure in a lawsuit's discovery process. Not so here, the short seller got server with a law suit. Something went wrong 😉
The short allegations, especially the financing part, seems to be a typical short story line pushed on Chinese companies. It sound a bit familiar with the previous 2017 CMCM short attack, which also got fully refuted.
Valuation wise, stock was traded above $11/sh or $1903M MCAP value on 2H18, which is about 3.17 times today's land use rights appraiser of $600M.
Historically the stock traded at certain levels for a long and stable time period:
2011 $5/sh or $105M MCAP w/ 21M OS
2012-2015 $0.10 – $1 or $2M – $21M MCAP w/

21M OS

2016 $4 – $7 or $712M – $1246M w/ 178M OS
2017 w/ $4 – $18 or $776M – $3492M w/

194M OS

2018 w/ $3 – $12 or $519M – $2076M w/ 173M OS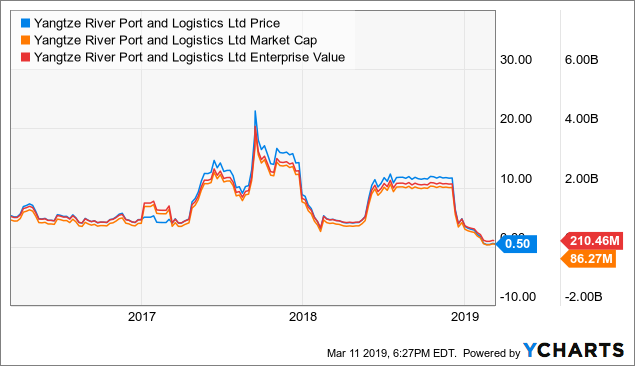 Here the detailed Weekly chart with the Fibonacci covering down to top over the whole Wuhan Newport asset ownership period. It shows a clear $3.38/sh support also covered in the Fibonacci, hence should be recovered in the next periods.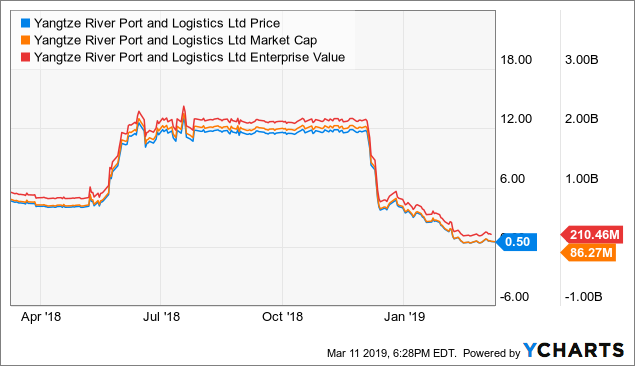 Same in detailed Daily Chart with above Fibonacci but just ~ 1 year
The 2nd Stage Selling

We see the stock price decline in roughly two stages
12/3 $11 -> 1/4 $4
1/4 $4 -> 2/19 $0.40
After company & shareholder filed the lawsuit against the short seller, on 2018-01-28 the latter – at least four shareholder reduced their stake about 27M shares significantly, representing more than 50% of their stake.

The second stage decline from $4 down to 40 cents was probably due to these sales. Since they all received their shares at a $10 valuation, they have effectively lost considerable value – at least on paper. Lots of speculations are circulating around these, a few random thoughts are
They realized all of a sudden that there is no value – after filing the lawsuit against shorts 😉
Unlikely panic sales at a loss and they could have sold higher earlier
Fraud usually has the goal of profit taking, here sellers took a loss
Coleman is still employed after selling at a loss and driving price lower
These funds may have acted together, intentionally depress the stock to….
While the short attack itself is a usual short & distort known game plan, these sales are the most puzzling part of the decline.
Project: Wuhan Yangtze River Newport Logistics Center
Wuhan is the capital of Hubei province and is the most populous city in Central China with a population of roughly 19M in 2015 in the Metro area. Province Hubei's population is around 59M in 2015.
The Yangtze River is the longest river in Asia and the third-longest in the world. The river is the longest in the world to flow entirely within one country.
The project Wuhan Yangtze River Newport Logistics Center is located in the middle reaches of the Yangtze golden waterway. See the other items in previous project link for details (location, planning and partners).
2017-07-10 Jim Coleman, Executive Director, describing the project & company.

Completed 100,000 square meters of office buildings (until 2017-07-10)
Started 2007 and invested $300M (until 2017-07-10) & at time of interview requires $800M more funding.
Unite Shipping via Yangtze & Railroad reaching right from Wuhan to Rotterdam, Europe. Already build as part of one belt & one road ..
Committed annual 5M metric tons shipping

Docking fee $3.5/tonnes = $17.5M p.a. for coming into the docks only

Additional Revenue by

Handling ..
Warehousing, Freezer, ..
Train on- off-loading (1900 liters railroad up- & downloading)

Wuhan is Key Location

Railroads

North: Bejing + Harbin
East: Shanghai etc
South: Shenzhen + Hong Kong
West: Western China w/ 300M people
North-West: Hooks up to Rotterdam/Europe or Lyon/Europe in just 16 days

Shipping via Yangtze River throughout China
To be continued …
The Past
The 2015 Wuhan Newport Asset Swap Deal
On 2015-12-29 the entity [Energetic Mind -> Ricofeliz -> Wuhan Newport] took over 'Kirin International Holding' in a asset swap deal valued at with company's common stock at $10.00 per share or an aggregate of $1510M.
'Kirin International Holding' is today's YRIV.
Note that this swap was actually a reverse M&A deal, were the 'Acquiree Energetic Mind Limited, Hong Kong, Attention: LIU Xiangyao' became the new owner of YRIV and the 'Acquiror GUO Jianfeng' exited.
Mr LIU Xiangyao was the controlling shareholder of Energetic Mind (parent) and hence Wuhan Newport (sub), hence he likely is also the debtor of the above discussed $120M due loans which were guaranteed by Wuhan Newport.
The short refutation from 2018-12-12 (see above) says that this debtor is now solely responsible for these loans and hence Wuhan Newport cleared of these leans and therefore YRIV, a strong positive and company is even suing the short defamation.
Mr LIU seems to be wealthy enough, as he even bought shares for $1.7M in December for around $5 per share, stock didn't even hit bottom yet.
The curious part here is that YRIV was willing to swap out 'Wuhan Newport' for 'Wuhan Economic Development' assets for an additional $90M cash payment while the new assets represented a lower property value! See the comment elaborating on the 2018 failed transaction and debt situation.
None of YRIV's note holders including Mr LIU is able to get paid currently, as the $300M S-3 shelf can't be executed at the current price level. This offering would have actually marked the very first market valuation via a secondary offering and company claimed in its complaint that underwriter were willing and able to execute it without warrants, another positive. This offering is now naturally on ice since the short attack.
+++
The 2015 transaction also clarifies the question of the sold shares of Director Mr Coleman. Mr Coleman represented the 'Acquiree Shareholder Best Future Investment LLC, Great Neck, New York'.
Best Future Investment LLC received 4.98M shares of today's YRIV in above swap deal, like Mr LIU and others.
The Form 4 sales transactions state that 'James S. Coleman is the Managing Member of Best Future Investment LLC' and were performed for their Indirect Beneficial Ownership. Mr Coleman probably never owned any of these shares personally, but acted as a trustee.
Mr Coleman holds all membership interest in Best Future Investment and therefore is identical with the same.
Best Future Investment LLC is a 'Foreign Limited Liability Company'.
+++
Here is a better overview of the beneficial Acquiree Shareholder, who reversed swapped themselves into YRIV. And voila, we see 4 of the 7 shareholders here who have sued the short seller Hindenburg et al:
Crestlake 16.6M shares
Majestic 16.6M shares
Fortunate Drift 16.6M shares
Start Well 4.98M shares
additionally the following entities have received shares:
Jasper Lake (Mr LIU now CEO)

91.24M shares and
8% Convertible Promissory Note in the principal amount of $150M

Best Future Investment 4.98M shares
Total: 151M shares @ $10/sh for $1510M book value + $150M notes = $1660M book value.

Note: Additional 3 shareholder suing are: Prolific Lion, Valiant Power and Solid Wise.
Note: None of them has sold significant amounts of their shares until today but Best Future Investment LLC.
Note: Majestic Symbol, Crestlake, Fortunate Drift and Coleman sold 27M shares since filing the lawsuit on 1/28, more than half of their stake.
Conclusion
It is theoretically possible that these asset swap deals have inflated the value, but this is a mere speculation and none of the participants have profited from the deal yet.
'3rd party appraiser of 515,600 sq meters land use right value to $600M'.
Enterprise Value (EV) is just ~ $211M @ 50c/sh and 173M OS, hence $600M EV gets us to $2.75/sh for that land alone not considering the revenue potential and the 1.2M sq meters lease. Interesting to note that $3.50/sh was roughly the floor area of last years trading.
From 2016 to just recently, the market has matched & confirmed the 2015 swap valuation and the MCAP went even above the $1660M overall transaction value.
Additionally the 8% convertible note holder agreed upon the $10/sh conversion price.
Majestic Symbol, Crestlake, Fortunate Drift and Coleman selling 27M shares, more than half of their stake at a great book value loss, is the most irritating play in recent developments here. This has reduced overall ownership from 159.75M (92.34%) to 132.74M (76.73%).
Knowing that ~77% of the original Wuhan Newport stake is still being held by the original owners, they altogether sue the short seller and are willing to disclose all information in the process – may lead to the conclusion that the owners are very confident on the rightful value of the property and project. Only the 50% stake reduction of above mentioned owners at a loss is heavily irritating.